Deutsche Bank, Wednesday, posted a 908 million euro ($1.1 billion) profit for Q1, on strong support from its investment banking division, CNBC reported.
Deutsche Bank Reports 908 Million Euro Q1 Profit
The bank's performance completely eclipsed analyst expectations for 642.95 million euros net income, according to Refinitiv, which improved vastly markedly from the 51 million euro profit it managed in the fourth Q4 2020.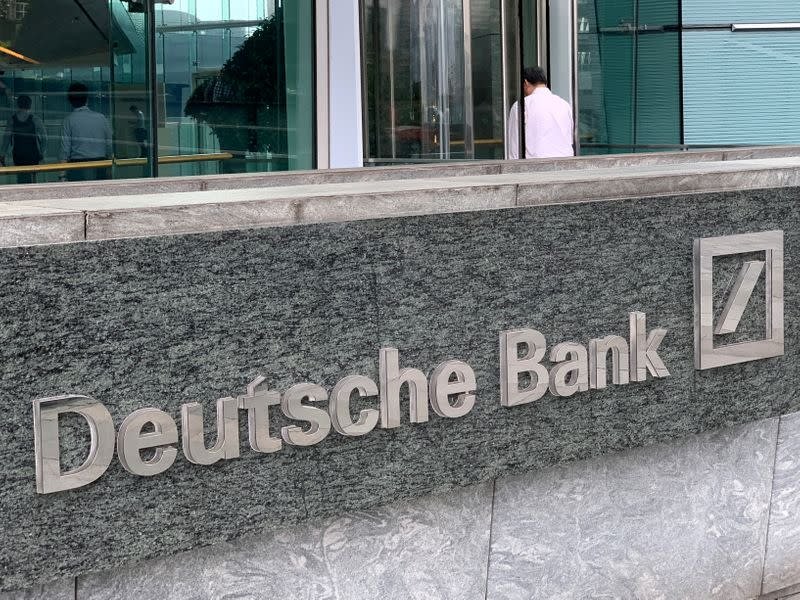 Some other highlights:
Total Q1 net revenues came in at 7.2 billion euros, as against 6.35 billion euros for the corresponding period in 2020.
CET1 ratio — a bank solvency measure— came in at 13.7%, as against 12.8% for the corresponding period of 2020.
First-quarter provisions for loan loss stood at 69 million, as against 506 million in the first quarter of 2020, down 86%.
Return on tangible equity (RoTE) came in at 7.4%, 3% up over the same period of last year.
According to commentators, Germany's largest lender joined many of its Wall Street rivals such as Goldman Sachs, Morgan Stanley, and JPMorgan as they handsomely beat earnings expectations.
Deutsche Bank shares shot 9% higher by Wednesday afternoon trading in Europe, on the strong report.
Investment bank revenues stood at 3.1 billion euros, increasing 32% year-on-year, while profit before tax vaulted 134% to 1.5 billion euros.
While asset management unit and the investment bank saw growth of 23% in revenues year-on-year, and were key drivers of earnings growth, according to CFO James von Moltke who spoke to CNBC on Wednesday the lender was also pleased with its private bank and corporate performance.
Von Moltke told Annette Weisbach of CNBC that they had talked about how those businesses were still fighting through the headwinds of negative interest rates, but they were seeing underlying growth in them offsetting the headwinds of interest rates, more than offsetting, or offsetting at least.
The investment bank performance was largely driven by 34% revenues increase in the fixed income and currencies (FIC) division to 2.5 billion euros, boosted by the credit market growth year-on-year.
He added, the credit business year-on-year was very strong, so the environment had some mark-to-market losses, that were there last year and a very strong credit environment this year.
He added what he called the macro products of FX, emerging markets and rates, the lender had seen some additional normalization in the first quarter.
He added that even as the macro themes normalization had been driving the growth of investment bank and had extended to the second quarter, the overall environment continued to be reasonably encouraging.
The bank was also able to avoid the collapsed Archegos Capital fund fallout which significantly hit Credit Suisse, UBS, and several in the first quarter.
The bank had undertaken a mass restructuring of its business over the past two years, the cost of which had affected earnings as also elevated credit provisions. However, Deutsche Bank retuned to profit in 2020, with 113 million euros full-year net profit.
Meanwhile, Bloomberg reported that half-way through his restructuring exercise Chief Executive Officer, Deutsche Bank AG, Christian Sewing had taken a major step toward convincing investors that Germany's largest lender not a show-me case any longer.
The bank beat traders at Wall Street for the third straight quarter handing Sewing the strongest profit in seven years, fueling the biggest rise in shares in almost a year. Also, in a quarter that saw many competitors in disarray from the Archegos Capital collapse, Deutsche Bank, not once known of its strong controls managed to avoid the carnage. The performance left even long-term skeptics much impressed.
Andrew Coombs, an analyst at Citigroup Inc, said the lender had a sell rating, however, the company had to be commended on its impressive performance.