Travelers to Thailand can now spend their compulsory two weeks quarantine on a yacht. The biggest tourism country is hoping that the new initiative will bring a minimum of 1.8 billion baht in yacht tourism revenue. The move is aimed at reviving the struggle of the nation in the tourism industry where many people are depending on and which was hit hard by the global pandemic. The southeast Asian country relies heavily on tourists but was forced to ban them last year to control the virus spread. At was beginning of this year the government had announced a scheme to allow visitors to spend their quarantine on a golf course.
Thailand Revels Quarantine In A Yacht For Visitors.
This was according to the Tourism Authority of Thailand (TAT) visitors to Thailand will now be able to spend their quarantine playing golf, for these six resorts have been approved by the government for quarantine for foreign golfers with advance arrangements. Quarantining visitors will be able to move around the resorts and play golf, rather than just isolate in their rooms. Tourism is a major industry for Thailand and the country attracted 40 million tourists in 2019 who spent $63.4bn. The six resorts include three in Kanchanaburi, West of Bangkok, one in Nakhon Nayok, North of Bangkok, and one in Petchaburi, south of the Thai capital. There is also an approved resort in Chiang Mai, in the country's north.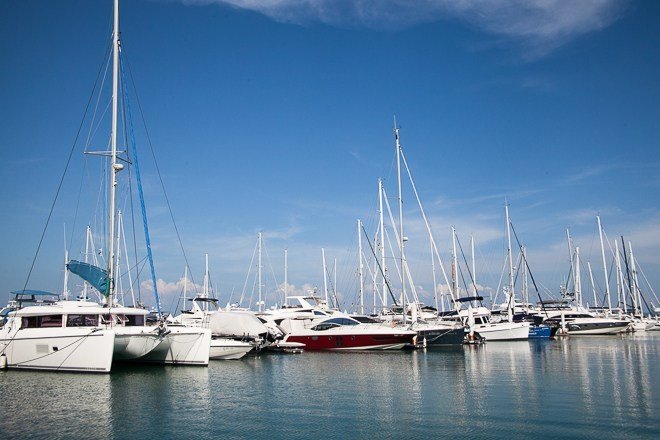 Benoit Badufle, a luxury tourism expert at Horus consulting firm said that "Golf is a major draw in Thailand's tourist offering with more than 250 golf courses disseminated all over the country." He also said, "The open-air setup and private villas make the propagation of the Covid-19 less likely while attracting a high-contribution clientele."
The TAT says it is a good time to play golf, because there are fewer players on the links, so it is now easier to book tee times.
Many theme parks and leisure facilities have needed to change their strategies to survive the travel downturn. In the US, as announced last month California's favorite Disney land is all set for a vaccination platform.
Thailand has been attempting to re-open its borders to international tourism. One of the ways it has been doing this is by offering extended 90-day tourist visas, which can be renewed twice. However, anyone entering Thailand must have a negative PCR test taken within 72 hours of departure as well as $100,000 worth of insurance that covers treatment of Covid-19. The Southeast Asian country is currently grappling with the second wave of coronavirus infections after managing to largely contain community spread for months. Statistics show that Thailand has had relatively few cases of Covid-19. So far there have been 11,262 cases with 69 deaths. But the country has recorded several hundred new cases a day since several clusters emerged in December.
On the other hand, the report came at the end of last year a US man is facing up to two years in jail in Thailand after posting negative reviews of a hotel he stayed in. This incident also cut the rate of tourist flow to the country. He was sued by the resort under the country's strict anti-defamation laws. Wesley Barnes, who works in Thailand, had posted several reviews on different platforms allegedly accusing the resort of "modern-day slavery". The Sea View Resort, however, said the harsh criticism by the former guest was untrue and damaging to the hotel's reputation. "The owner filed a complaint that the defendant had posted unfair reviews on his hotel on the TripAdvisor website," police told the AFP news agency. The incident, which occurred at the resort on the island of Koh Chang earlier this year, was apparently triggered by an argument over Mr. Barnes wanting to bring his own bottle of alcohol while dining in the restaurant.
The yacht quarantine, which was announced on Monday, the program will allow visitors with a negative coronavirus test to spend their time onboard a yacht or small cruise ship in Phuket. The pandemic saw the number of tourists on the popular tourist destination plummet from 40,000-50,000 a day to just hundreds. The program has already begun accepting yachters for a trial run, and around 100 yachts are expected to take part once it gets off the ground. Travelers are required to wear a smart wristband that monitors vital signs including high temperature and blood pressure, as well as tracking the wearer's location via GPS.
The device can transmit information even at sea, within a 10 km radius, the government said. Having banned foreign tourists in March last year, Thailand has been gradually reopening its borders since October. Last week, Thailand's tourism minister said he would propose a plan for foreigners to undertake quarantine in popular tourist areas, including beach resorts. The hotel quarantine plan is expected to start in April or May in popular provinces including Phuket, Krabi, and Chiang Mai.
Overall, after months of avoiding the surge in cases seen by its neighbors, it is quite obvious that the nation has been hit by its worst Covid-19 outbreak yet. It is also a fact that Thailand was the first country outside China to register cases of Covid-19. But it has recorded a relatively low virus caseload since, with just over 4,000 cases and 60 deaths before this latest outbreak.